Global facial rejuvenation is all the buzz lately – but what exactly does it entail?  How invasive is it?  What is the recovery time?  Are you even recognizable following treatments?  There are a number of valid questions for those considering this anti-aging treatment process, and rightly so, it is your face after all!
Medical Rejuvenation, of any area of the body, is a medical discipline focused on the practical reversal of the aging process.  When it comes to dermal fillers and treating signs of aging, a foundational understanding of the aging process itself is essential.  This will help you understand the best practices and treatment options on a deeper level.  This knowledge also helps to ensure that you go into your rejuvenation treatments more prepared, but that you and your medical dermatology specialist address the source of the issues, instead of simply masking the symptoms.
For example, a patient may ask for filler in their nasolabial folds (wrinkles surrounding the mouth from smiling).  Though this can be a good treatment option for some, more often the best way to correct the NLF lines is to use filler in the cheeks (along the cheek bones).  This is because the cheek filler lifts the facial tissue, relieves the gravitational pressure on the nasolabial folds, and as a result reduces the appearance of wrinkles.
UNDERSTANDING THE AGING PROCESS:
As we age our faces naturally lose volume, our underlying bone structure shifts, and our fat pads lose volume.  These changes cause our faces to appear deflated, sometimes gaunt, and can lead to sagging as the years go by.  The intensity of these changes varies from person to person and is affected by many factors throughout our lives.  Some of these factors are hereditary and out of our control, while others can be influenced positively or negatively by lifestyle choices, like the use of daily sunscreen, and more.
THE RESULTS:
Facial rejuvenation with dermal fillers is a gentle and non-invasive way to revolumize your face.   The goal is not to create something new or different than your original look – but instead to restore the youthful plump that you had previously.  Though every patients' needs and end results are different, total rejuvenation with dermal fillers results in an overall more youthful and refreshed face, softened lines, restored lips, and brighter eyes.  Leaving you with a well-balanced and harmonious look (see examples below).   It is a soft restoration that will prompt friends and coworkers to notice that you look great, youthful, refreshed, but they won't quite be able to put their finger on why.  You might even have one or two people ask if you if you changed your hair style!  Global rejuvenation with dermal fillers is the non-invasive and subtle, yet noticeable, anti-aging treatment option that doesn't require downtime, which is why it is rapidly growing in popularity.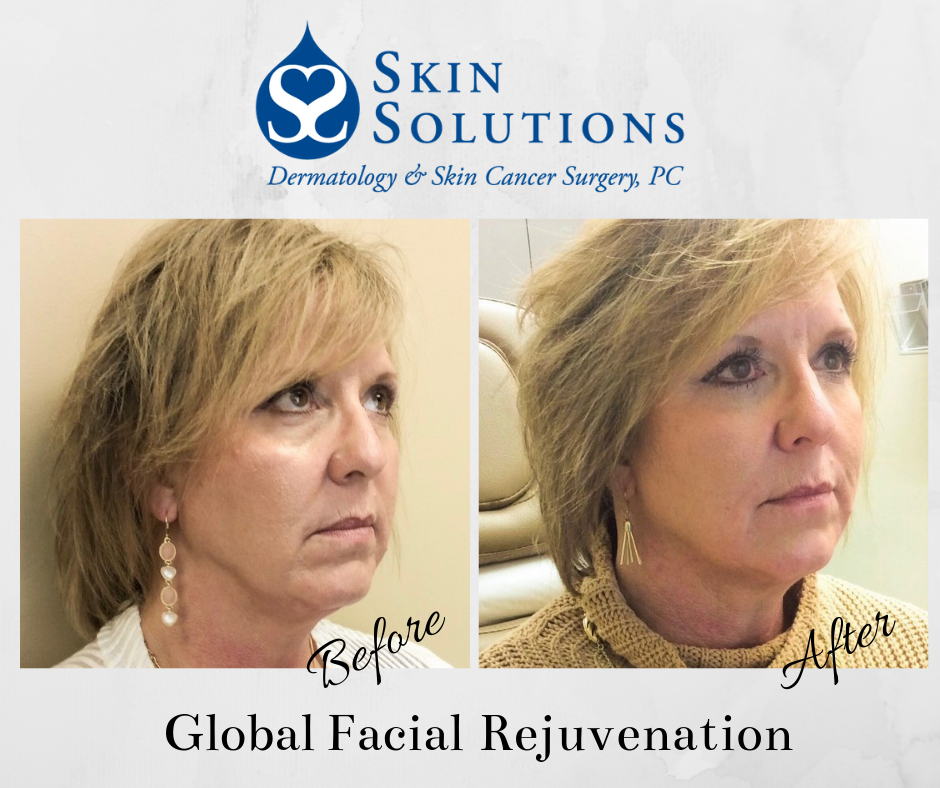 Patient received filler in cheeks, NLFs, Marionette Lines, and Chin
Medical dermatology specialist Hannah South, located at our Brentwood office.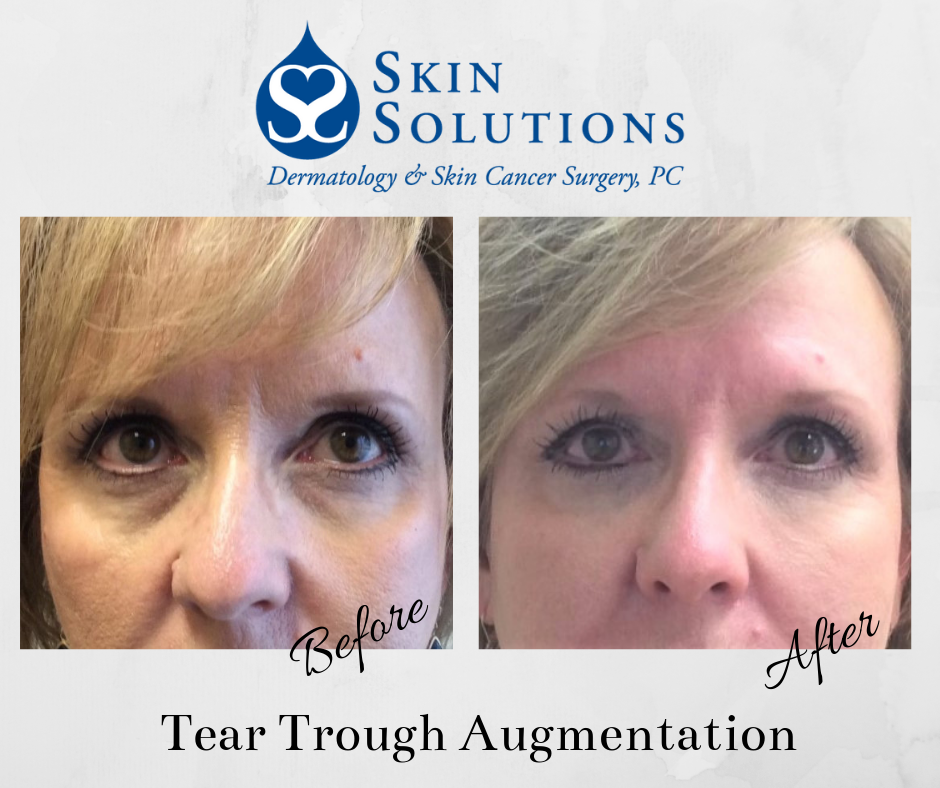 Patient received filler in tear troughs to revolumize undereye area
Medical dermatology specialist Hannah South, located at our Brentwood office.
WHAT IS THE BEST APPROACH?
Generally, a treatment plan containing both dermal fillers and Botox is the most effective in attaining a harmonious, youthful look.  Fillers like Juvéderm and Restylane revolumize and refresh your face, while Botox will improve the appearance of wrinkles, and help combat the deepening of those lines.  However, it is good to note that every face is different, so this is usually the case but there can be exceptions.  If you are personally interested in global rejuvenation, the best course of action is to schedule a consultation to discuss your personal concerns and the best way to meet your specific needs.  Your medical dermatology specialist will access your facial structure and recommend a treatment plan based on your desires and aesthetic preferences.  If you are interested in learning more ou can schedule an appointment at any of our Skin Solutions Dermatology offices, located in Nashville, Brentwood, Franklin, Columbia, Pulaski, Hendersonville, Mt. Juliet, and Smyrna.