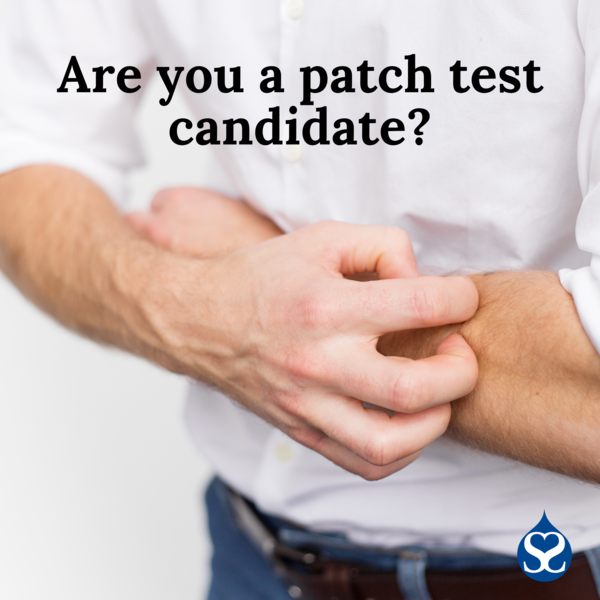 Experiencing an allergic reaction to something can be frustrating and even scary, especially if that reaction is reoccurring. Symptoms can range from mild skin irritation and redness to swelling, blisters, bumps and flakey patches. In some cases, a rash may spread beyond the initial reaction site to other areas of the body. You may be wondering what aspects of your daily routine are factors for skin irritation. Fortunately, allergy patch testing can help provide answers!
At Skin Solutions Dermatology, our dermatology specialists believe in offering their patients science-based solutions to common skincare woes. Our very own Kelly Caudle, PA-C shares her expertise about patch testing and how it can give patients a positive outlook on reoccurring skin issues.
WHAT IS THE DIFFERENCE BETWEEN PRICK ALLERGY TESTING AND PATCH TESTING ASIDE FROM THE APPLICATION PROCESS?
When you see an allergist for prick testing, they are typically testing for environmental factors relating to allergies such as pet dander, molds, and those things you might breath in despite the test being done on the skin. At a Dermatologist, we are testing for contact allergies to things like chemicals, dyes, fragrances, preservatives or emollients that might be contained in lotions and other skin care products. We also test for sensitivities to metal such as nickel as it can contribute to flare ups in patients who suffer from eczema.
WHAT ARE SOME IMPORTANT FACTORS TO UNDERSTAND BEFORE GOING IN FOR AN ALLERGY PATCH TEST? CAN CERTAIN MEDICATIONS INTERFERE WITH THE PATCH TEST RESULTS? 
We actually recommend that patients continue to take their daily medications as normal before they come in to see us. Medicines such as antihistamines or nasal sprays will not affect the results of patch testing. Even topical steroids are ok as long as they aren't being applied in the testing area. There are, however, some exceptions to this. We don't recommend that patients come in for patch testing while they are taking prednisone.
It is also important for patients to know that patch testing is a multiday process as where prick testing is done in the allergist office over the course of an hour or so. Patches are taped directly on the skin (typically the back) for up to a week. Because of this, patients will need to be careful not to get the testing area wet until after the test is completed. There are some restrictions against sweating or showering during that time.
WHAT SHOULD YOU EXPECT WHEN YOU GO IN TO GET AN ALLERGY PATCH TEST? 
During the first visit, patients will talk with a nurse regarding their skin issues and have the testing patches applied to their back. Patients will need to return to the office in 48 hours for an initial reading and to have a conversation about the initial results with their dermatology specialist. In some cases, patients can show a delayed hypersensitivity and we like to be able to monitor that. At that point, the patches can be removed. The patient will need to return for a final visit to discuss the results with their dermatology specialist.
WHAT MAKES A PATIENT A GOOD CANDIDATE FOR AN ALLERGY PATCH TEST?
Patients who experience reoccurring and resistant rashes and itching are typically good candidates for this test. Eczema patients especially since they may have triggers that they are unaware of that cause flare ups for them. Some patients may experience a rash clearing up only to have it return as soon as they stop treatment.
WHAT IS THE FIRST STEP FOR SOMEONE THAT THINKS THEY MAY NEED FURTHER ALLERGY TESTING?
The first step is calling one of the Skin Solutions locations nearest you. Once you meet with one of our dermatology specialists, we can start the process of getting you scheduled for a patch test. We will take the necessary steps to see if your insurance company will cover the cost and if you will need a referral. Some patients never explore the idea of having a patch test done because they assume that it will not be covered by their insurance company.
WHAT RESOURCE DO YOU FEEL HAS THE MOST TO OFFER PATIENTS?
At Skin Solutions Dermatology, we use the Contact Allergen Management Program (CAMP) which is a system created by the American Contact Dermatitis Society to help patients avoid allergens. Patients can download an app on their Apple or Android phone and have access to a database of over 5000 products such as cleaning products, shampoos, make-up items, lotions and even medications. Dermatology specialists input a patient's known allergens to their profile so they know which products to avoid and which are safe for them to use.
With this system, patients can have a plan of attack that's less overwhelming for them to manage. In addition, patients can advise their primary care dermatology specialists as well to their known allergens so they can avoid being prescribed something that could cause an allergic skin reaction. Patients don't have to live their lives on steroid creams. We like to offer them a way to properly manage their skin sensitivities instead of a temporary solution.
If you would like to learn more about allergy patch testing or if you think you are a good candidate, please contact one of our 8 locations across Middle Tennessee to schedule your appointment with one of our caring dermatology specialists today!